Corporate Mission
Corporate Identity
To enhance human development through education and culture.
Management Attitude
To serve as a pioneer through a broad vision and sharp sensitivity.
Standard of Business Conduct
To innovate through constant challenge to ourselves.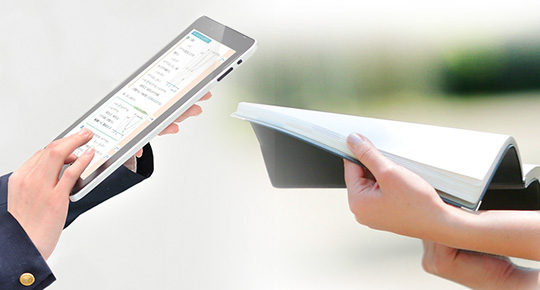 Social Mission-To nurture "the bearers"of the future.
Tokyo Shoseki is one of the leading textbook publishing companies in Japan. Our mission is to develop human resources needed to meet future educational challenges through publishing textbooks of a higher caliber. It is our belief that this is a social mission common to all textbook publishers.

To contribute to a healthy and intellectual lifestyle for everyone.
As approaches to education have changed and educational media have become diversified, the concept of education itself has evolved to embrace "lifelong" education. Under such educational circumstances, we need to adapt ourselves so as to be able to accommodate a greater array of needs.

Our sphere of business is expanding from its traditional base of book publishing into new markets such as producing video products, developing software and web-streaming, and furthering a Japanese language examination system. Broadening our business scope will enable our company to recognize and seize emerging opportunities, as well as adapt to a rapidly changing business environment.